What-TO-Wear Wednesday: Blush & Lace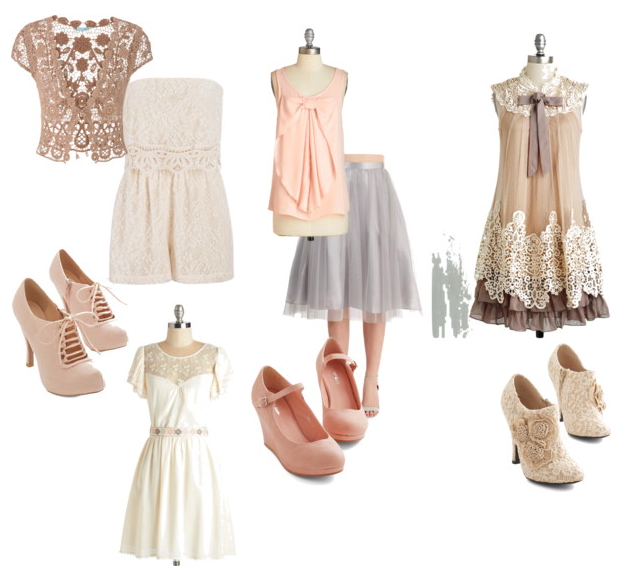 Look like a modern princess in these ADORABLE outfits.
Summer is here and these outfits are BEYOND drool worthy for your next photosession with Ray Davis Photography.
Outfit #1 – Pairing the lace romper with the rose gold lace vest gives it more dimension and body. Both of these you can find at your local Maurices. Alternatively, if rompers are not your style, the beautiful boho dress from Modcloth is another show stopper. I love the belt detail! This would be perfect for a Senior session for senior pictures in the arboretum in Lexington or even Bernheim Forest near Louisville.
Outfit #2 – Going for the more sophisticated route is the bowtie tank with the tulle gray skirt. It creates a professional look with a touch of whimsy! I am seriously considering this myself.  Also with princess minisessions swiftly approaching, this look would also be great for a Mom to hop in for a few pics with her daughter. Gives me goosebumps thinking about it. It would probably be one of the greatest family photography sessions I have done to date.
Outfit #3 – If you know anything about me, I LOVE lace! Like seriously, I am OBSESSED and this dress delivers. It has a vintage, yet classy elegance. Perfect for a magical session paired with a bit of time travel. Even the shoes are swoon worthy! I can see it in a boho-themed photo session for both teens and Seniors. Out in the woods, native-american-style tent pitched up and a hoard of dreamweavers hanging from tree branches. Oh the possibilities!
So what are you waiting for? Now is the time to get your outfits together, so we can start designing your unique session. Interested in any of the ideas above? Just send me a message! I love working with all my clients to design and style their wardrobe to create unique looks just for them. It all starts with a free pre-consultation that will help us decide if I am the right photographer for you. So stop waiting. You need to exist in photos, and let me show you how GORGEOUS you truly are.  What greater excuse could you have to buy a new wardrobe?
<3, Ray